植物研究必备,细胞质膜H+-ATPase抗体
发布者:澳门网上 科技发布时间:2020-11-10
植物细胞膜H+-ATPase,广泛分布于植物细胞质膜上的ATP酶,由Hodges等人于1972年研究质膜微囊的ATPase的水解活力时发现。根据功能和位置不同,植物细胞内的H+-ATPase可分为F、P和V三大类型:F型ATPase主要分布在线粒体和叶绿体上;P型ATPase分布在质膜上;V型ATPase分布在液泡膜、内质网膜、溶酶体上。今天的主角是,P型H+-ATPase!(下文提及均为P型H+-ATPase)
植物研究必备,细胞质膜H+-ATPase抗体
质膜H+-ATP酶(P型H+-ATPase)是一个约100kDa的蛋白质家族,被认为是植物和真菌质膜的专属蛋白。该蛋白被固定在生物膜内,形成电化学梯度,作为能量来源,对大多数代谢物的吸收和植物对环境的反应(如叶子的移动,气孔开合,花粉管生长..)至关重要。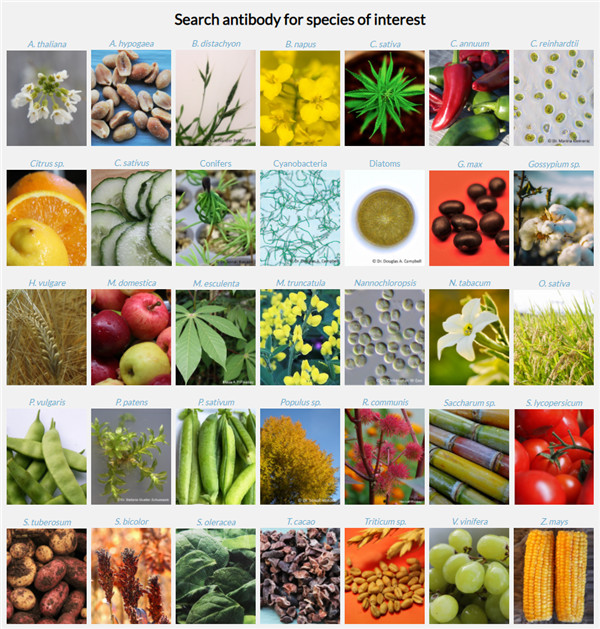 因为H+-ATPase极其重要,且广泛分布在各类植物物种中,因此,绝大多数植物研究工作者的科学研究,几乎都逃不开一支靠谱的,多应用,多文章的H+-ATPase抗体。
澳门网上 科技作为专业的生命科学领域整体解决方案供应商,为您推荐超好用的胞质膜H+-ATPase抗体:
货号

AS07 260

名称
H+ATPase | Plasma membrane H+ATPase
质膜H+-ATP酶
应用类型

1 : 600-1 : 1000 (IF), 1 : 100 (IL), 1 : 1000-1 : 10 000 (WB)

验证过的反应种属

七叶树,拟南芥,茶树, 轮藻R.Br, 莱茵衣藻, 黄瓜, 南瓜, 大豆, 秋茄, 大麦, 黑麦草, 番茄, 苹果, 地钱, 蒺藜苜蓿, 烟草, Zn超富集植物, 水稻, 矮牵牛, 蝴蝶兰V3, 小立碗藓, 云杉, 欧洲山杨, 凤尾蕨, 蓖麻, 菠菜, 玉米, 蚕豆

不反应种属

黑曲霉

形式

冻干粉;使用前,用50ul无菌去离子水溶解.

预期分子量

90- 95 kDa(拟南芥;具体根据不同种属亚型,上下浮动)

说明书
植物膜专题

Agrisera植物膜运输系统抗体,帮您从外到内解开面纱
H+-ATPase实验结果展示:
| | |
| --- | --- |
| | |
| WB:1: 5000 | IF:1: 300 |
使用H+-ATPase抗体,发高分文章:
Wang et al. (2020). Plant NLR Immune Receptor Tm-22 Activation Requires NB-ARC Domain-Mediated Self-Association of CC Domain. PLoS Pathog. 2020 Apr 27;16(4):e1008475. doi: 10.1371/journal.ppat.1008475.
Collins et al. (2020). EPSIN1 Modulates the Plasma Membrane Abundance of FLAGELLIN SENSING2 for Effective Immune Responses . Plant Physiol. 2020 Feb 24. pii: pp.01172.2019. doi: 10.1104/pp.19.01172
Wang et al. (2020). The Arabidopsis exocyst subunits EXO70B1 and EXO70B2 regulate FLS2 homeostasis at the plasma membrane. New Phytol. 2020 Mar 2. doi: 10.1111/nph.16515.
Kuang et al. (2019). Quantitative Proteome Analysis Reveals Changes in the Protein Landscape During Grape Berry Development With a Focus on Vacuolar Transport Proteins. Front Plant Sci. 2019 May 15;10:641. doi: 10.3389/fpls.2019.00641. eCollection 2019.
Yuan et al. (2019). Phospholipidase Dδ Negatively Regulates the Function of Resistance to Pseudomonas syringae pv. Maculicola 1 (RPM1). Front Plant Sci. 2019 Jan 18;9:1991. doi: 10.3389/fpls.2018.01991.
Zhang et all. (2018). Root plasma membrane H+-ATPase is involved in low pH-inhibited nitrogen accumulation in tea plants (Camellia sinensis L.). Plant Growth Regul (2018) 86: 423.
Roth et al. (2018). A rice Serine/Threonine receptor-like kinase regulates arbuscular mycorrhizal symbiosis at the peri-arbuscular membrane. Nat Commun. 2018 Nov 8;9(1):4677. doi: 10.1038/s41467-018-06865-z.
Wang et al. (2018). Resistance protein Pit interacts with the GEF OsSPK1 to activate OsRac1 and trigger rice immunity. Proc Natl Acad Sci U S A. 2018 Nov 16. pii: 201813058. doi: 10.1073/pnas.1813058115.
Pertl-Obermeyer et al. (2018). Dissecting the subcellular membrane proteome reveals enrichment of H+ (co-)transporters and vesicle trafficking proteins in acidic zones of Chara internodal cells. PLoS One. 2018 Aug 29;13(8):e0201480. doi: 10.1371/journal.pone.0201480.
Zhang et al. (2018). Maintenance of mesophyll potassium and regulation of plasma membrane H+-ATPase are associated with physiological responses of tea plants to drought and subsequent rehydration. The Crop Journal July 2018. (Camellia sinensis)
Seguel et al. (2018). PROHIBITIN 3 forms complexes with ISOCHORISMATE SYNTHASE 1 to regulate stress-induced salicylic acid biosynthesis in Arabidopsis. Plant Physiol. Jan 2018. DOI:10.1104/pp.17.00941
Duan et al. (2017). A Lipid-Anchored NAC Transcription Factor Is Translocated into the Nucleus and Activates Glyoxalase I Expression during Drought Stress. Plant Cell. 2017 Jul;29(7):1748-1772. doi: 10.1105/tpc.17.00044. (Nicotiana benthamiana)
Nagel et al. (2017). Arabidopsis SH3P2 is an ubiquitin-binding protein that functions together with ESCRT-I and the deubiquitylating enzyme AMSH3. Proc Natl Acad Sci U S A. 2017 Aug 7. pii: 201710866. doi: 10.1073/pnas.1710866114.
Aloui et al. (2017). The plasma membrane proteome of Medicago truncatula roots as modified by arbuscular mycorrhizal symbiosis. Mycorrhiza. 2017 Jul 19. doi: 10.1007/s00572-017-0789-5.
Lomin et al. (2017). Studies of cytokinin receptor–phosphotransmitter interaction provide evidences for the initiation of cytokinin signalling in the endoplasmic reticulum. Functional Plant Biology, CSIRO Publications. (Nicotiana benthamiana, western blot)
Kovaleva et al. (2017). Regulation of Petunia Pollen Tube Growth by Phytohormones: Identification of Their Potential Targets. DOI:10.17265/2161-6256/2016.04.004. (immunolocalization)
Liao et al. (2017). Arabidopsis E3 ubiquitin ligase PLANT U-BOX13 (PUB13) regulates chitin receptor LYSIN MOTIF RECEPTOR KINASE5 (LYK5) protein abundance. New Phytol. 2017 Feb 14. doi: 10.1111/nph.14472.
LaMontagne et al. (2016). Isolation of Microsomal Membrane Proteins from Arabidopsis thaliana. Curr. Protoc. Plant Biol. 1:217-234. doi: 10.1002/cppb.20020.
Heard et al. (2015). Identification of Regulatory and Cargo Proteins of Endosomal and Secretory Pathways in Arabidopsis thaliana by Proteomic Dissection. Mol Cell Proteomics. 2015 Jul;14(7):1796-813. doi: 10.1074/mcp.M115.050286. Epub 2015 Apr 21.
看到这儿,您心动了吗?马上联系小艾吧!
或者扫描下方二维码,即可联系您的专属客服哦~
作为一家具有高端的技术实力、先进的经营管理水平和完善的市场销售体系的生物高科技企业,总部位于澳门光谷高新技术开发区,服务面向全国。澳门网上 科技是集进口试剂、实验室耗材销售、技术服务与合约开发为一体的专业化高科技公司,为用户提供专业的前沿资讯、完备的产品、整合的解决方案,及优质的物流服务。为了更好的服务客户,公司组建了一支经验丰富的研发团队-澳门网上 生物技术中心,进入研发生产阶段,将更优质的产品推荐给国内生物领域的同仁们!
澳门网上 科技与国内外优秀的生物试剂供应商优保持着密切的合作关系,目前已成为众多国际知名品牌的中国总代理或一级代理,主要包括:AmyJet、AAT Bioquest、Abnova、Agrisera、Biovision、Biosensis、Cayman Chemical、Caisson Labs、Cytoskeleton、CytoNiChe、Epigentek、Equitech-Bio、Hycult Biotech、Jackson、LifeSensors、LigaTrap、ProSpec、Norgen Biotek、Mabtech、Matreya、iRegene、StressMarq、ImmunoReagents、SouthernBiotech、Origene、US Biological、Solis BioDyne等,可以在短时间内为用户提供专业的前沿资讯、完备的产品及物流服务。